What is the Ender 3 V2 Bed Size and How to Change it?
The Creality Ender 3 family of printers, which includes the Ender 3 Pro, Ender 3 V2, and Ender 3 S1, has quickly become the most popular desktop 3D printing solution because of its low prices and high print quality, especially for the Ender 3 V2, and today we're going to talk about one of the most popular topics: how to make your Ender 3 V2 bed size bigger.
The Creality ender 3 v2 print bed size is 235 x 235 mm, while the actual printable area is 220mm x 220mm x 250mm. This is because the safe area the nozzle can reach is a little bit smaller than the size of the bed. That's a shockingly large percentage of the print bed that's not being used!
So this article will explain the differences between print size and bed size, and show you how to maximize the Ender 3 V2 print area.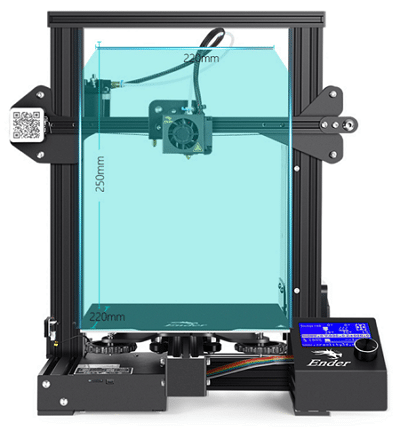 Ender 3 V2 Bed Size vs Print Volume
Why is the print area smaller than the bed size ender 3 v2?
Clipping: Clips are probably the major explanation for the variance. If your build plate isn't magnetic or attached to the print bed's carriage, you probably have clips anchoring it to the carriage. Office binder clips, which are included with certain Ender 3s, are bulky and take up a lot of storage space. Having 7.5 mm on the sides of the bed prevents the nozzle from interfering with these clips.
Tolerance stack-up: The Ender 3 V2 uses mechanical joints and connecting rods of varying diameters. Mechanical system components have tolerances related to their manufacturing processes. The "tolerance stack-up" is the total tolerances. The increased bed area may allow machine tolerances to stack up.
Alternatives
When talking about the Ender 3 V2 print area, slicer parameters, especially the settings for how well the build plate sticks, are important. Before a model is printed, most slicers add a G-code to make a priming line and skirt. When you are getting your model ready to print, the effective print area may be even smaller than the print area of your machine. Hence, changing settings should increase space.
The print bed's heating element doesn't reach the sides, therefore the print area is smaller. Given that the distance between the element and the bed isn't much wider than the heating element's spacing, this latter problem is unlikely to affect Creality's advertised print area. Heat should readily spread around the bed.
Can I Print More Than the Allotted Volume?
The fact is that you can simply print more than your designated volume. There isn't any reason why you shouldn't! Some 3D printing professionals have even increased the print volume to 235mm* 235mm* 250mm. But, as a novice, we would not suggest you this. The people who make the Ender 3 V2 3D printer, Creality, have decided that a print size of 220mm * 220mm * 250mm is the best.
Tolerance margins are required for 3D printers since prints can always differ somewhat. The printing bed can also be adjusted by a few millimeters after cleaning, for example. The manufacturer has accounted for this in its standards to ensure the best possible printing outcome.
But, this does not preclude you from printing larger. A 5mm margin on each side should be plenty. You do not require 15mm. After all, you gain 10 mm and have an area of 230mm* 230mm*250mm.
You can get even closer to the 230mm*230mm*250mm dimensions. If you like to experiment with your 3D printer and don't mind making a few bad prints and having to clean it several times, this is the printer for you. Using, learning about, and playing with your new gadget in this way may be a lot of fun.
How to turn your Printing size bigger?
Step 1: Upgrade Your Hardware
If you're sure that you want to go with a larger bed size, it's time to update your hardware!
It's time to switch the installation method if you're using a configuration that uses clips. You can do this in one of two ways: either get rid of the clips you're using now or change your printing bed.
You'll need to switch your files to something else if you decide to get rid of them. At this point, it's best to let out your inner do-it-yourselfer because you can try to find a replacement using things you already have at home.
The second option is a little bit trickier because changing the print bed will bring its own problems. Still, you can choose a new build surface, such as Creality's magnetic bed, which works with the Ender 3 V2.
Step 2: Update your computer's software
The software on your Creality Ender 3 V2 can be updated to let you use some helpful features that can make your 3D printing experience better. By default, you can only use a print surface that is 220 mm by 220 mm. In fact, you can update the software to a different version.
Alternatively, you could decide to change Ender 3 V2's programming. You can do this by upgrading your software to the most recent version and entering the Marlin code. If BLTouch is loaded on your Ender 3 V2, you can still make things easy for yourself, even though changing this code requires some experimentation. If you decide to go that way instead, this guide will help you. A tip to keep in mind is that you shouldn't turn your value up to 235 x 235 mm.
FAQ
What kind of bed does Ender 3 V2 have?
The Ender 3 V2 is different from its predecessors because it comes with a textured glass bed.
What are the dimensions of the Ender 3 V2?
The ender 3 v2 bed dimensions of 8.7 x 8.7 x 9.8″ offers you enough space to make a variety of models in all sizes and forms. With a heated glass platform and a single 1.75mm nozzle extruder, you can use PLA, TPU, and PETG filaments to print designs with a layer resolution of 100 to 400 microns.
Is the size of the Ender 3 and the Ender 3 V2 the same?
Yes, the build volume size of the Ender 3 is the same as the Ender 3 V2: 220*220*250. The Ender 3 V2's product dimensions are 475*470*620, while the Ender 3's product dimensions are 440*440*465
Is Ender 3 V2 big enough?
220 x 220 x 250 millimeters is the size of the Ender 3 V2's construction volume. The printer can still sit on a workbench despite being a little bigger than the typical 200mm cube of many 3D printers available today.
Is a Creality Ender 3 V2 the same as the Ender 3 Pro?
The Ender 3 V2 includes all of the Pro's improvements in addition to a few more. The higher-end models' print quality gets a small boost from these changes, but we've found that all of the machines' print quality is pretty much the same overall.
Can I keep my Ender 3 V2 running all night?
As long as you get a good 3D printer, you should be able to use it 24 hours a day without any problems. Some Ender 3 V2 users say that their printers work fine if they are left on overnight.
Can Ender 3 V2 print 0.1 mm?
The Ender 3 is a do-it-yourself (DIY) 3D printer that you can put together on your own. It has a build volume of 220 x 220 x 250 mm and an accuracy of 0.1 mm when printing.
Conclusion
The firmware on the Creality Ender 3 V2 is well-made, so you can print in sizes that have good proportions. You can still change a few things to make it bigger, but in the grand scheme of things, the size it comes with is fine. It's important to remember to be careful and not damage your 3D printer.
DISCLOSURE: THIS POST MAY CONTAIN AFFILIATE LINKS, MEANING I GET A COMMISSION IF you DECIDE TO MAKE A PURCHASE THROUGH MY LINKS, AT NO COST TO YOU. PLEASE READ MY DISCLOSURE FOR MORE INFO.